What is the Smart Screen and what does it do.
The OLED (organic light emitting diode) screen occupies 25mm x 9.5mm of the overall size of the device, which is a mere 31mm long x 9.5mm high x 4.5mm thick. Each screen character block has an amber coloured notional 7 x 5 pixel matrix that is amazingly clear and easy to read even at arm's length. Upper and lower case letters, as well as numbers 0-9 and many special characters can be programmed into a two line message.

Photo – Train-Tech
The first line shown above, is intended for your message title (say train destination). There are 16 dynamic character blocks across the screen, including 5 character blocks for a live clock, which can be set for any initial time and thereafter it keeps good time until the device is powered down. By dynamic blocks I mean that a 1 or i or l will occupy less block width than an M or W, so the usable line length depends upon what the actual text is.
The second line shown above, auto-scrolls if the message exceeds the screen limits, with a maximum message length of 137 character blocks.
Up to ten separately controlled messages may be programmed.
Examples of the screen text are shown full size in the comprehensive instruction booklet and approximately twice actual size above.
The display is very thin glass and extremely fragile so great care must be taken when handling the device and especially when soldering on the necessary wires to the generously sized contact pads on the back as well as inserting it into a housing. Normal soldering techniques apply when attaching the fine wire leads supplied with the Smart Screen – in and out quickly with a hot iron – as advised in the instructions. The large pre-tinned pads help achieve first time success. The screen comes with a long length of suitable wire.
The Smart Screen can be used with DCC or DC. In the former case the user will normally program the screen with their own messages of choice, but a DC user has to download and complete the programming planning sheet from the Train-Tech website and then send it to Train-Tech with their order, where the unit will be pre-programmed with their messages before despatch for a small additional charge (details on the Train-Tech website). This message planning sheet is also very handy for DCC users to think out their messages before trying to program them.
Train-Tech also supply a variety of 3-D printed housings for the Smart Screen allowing it to be neatly mounted inside a DMU/coach or hung under a platform canopy or be pole mounted facing left or right on a platform or at roadside. A double sided housing has been added to the inventory, since the picture below was used.
Photo – Train-Tech
The housings are at extra cost. It is advised that once you have soldered on your feed wires that you mount the Smart Screen within such housing for protection against breakage in use.
Pre-programmed demo
The Smart Screen comes pre-programmed with a rolling screen demonstration so that you can get a feel of what is possible as shown on this short video. Please be aware that once you re-program the Smart Screen with your own messages this demo-program is overwritten and thus lost.
Train-Tech Smart Screen Demo Video (Click to play):
Rolling display mode is also your active messages screen default, but this is interrupted by any subsequent live command. Look upon it as you would a PC screen saver.
User Instructions
The instructions packed with the Smart Screen are fairly complex, but very comprehensive and it is advised that you fully read and understood them BEFORE you attempt to reprogram and use the Smart Screen. The instructions comprise seven full pages of text and illustrations in a neat A5 sized booklet, which you will often refer to as you learn how to use the Smart Screen. The instructions in addition to giving general setup information include several projects showing the various ways in which the Smart Screen can be used.
Before you can use the Smart Screen (apart from watching the rolling demo screen, which kicks in as soon as the device is powered up) you have to program it with the messages of your choice allied to a DCC address and how you want to use the device – i.e. which operating mode. Programming messages and setting up addresses is amply covered in the instructions so I will not repeat them here.
Operating modes
There are five operating modes:
1. Controlled by loco direction, Project 1.
2. Sensor or switch controlled, Project 2 and Project 5.
3. Accessory controlled, Project 3.
4. Manual operation from a DCC controller, Project 4.
5. Auto-cycle (default).
In loco direction mode the Smart Screen is told to react to the same address as the 'rolling stock' that the Smart Screen is installed in or working with. The Smart Screen shows one message (A) when the train is going forwards and another message (B) when the train is reversed. On-board mounting of the screen works well for any layout with a train visiting out and back destinations with/without intermediate stops. A terminus station with limited trains could have the Smart Screen platform mounted showing for example a message saying '...the train arriving/departing is the abc for xyz...' to match the direction of the train it is linked to. See video clip later.
Sensor or switch mode activates an associated message, such as 'Train Approaching' or 'The next train is for abc calling at xyz' when a sensor is passed or a manual switch thrown.
In accessory mode there are up to ten screens (A to J), which work in pairs (A-B, C-D, E-F, G-H, I-J). Typically these will be linked to points or signal operation such that, for example, when Point 1 is set left or Signal 1 is set to clear then screen A displays, when Point 1 is set right or Signal 1 is set to hold then screen B displays, and so on in sequence of pairs. See video clip later.
Manual mode is direct call up of any screen from its associated DCC controller Function button, against the screen's allocated DCC address, for example Screens A to J are operated via an associated F-key (F0-F9).
Auto-cycle mode scrolls between all available screens at a user defined interval, but any other active mode will take priority and interrupt the auto-cycle, e.g. a periodic 'Unattended Luggage, etc' or similar screen message would be interrupted by a live selected 'Train arrival/departure' or other screen message.
How to set up these mode scenarios is fully described in the instruction booklet as Projects 1 to 5, so I will not further expand here.
Programming for use with Hornby Railmaster
The instructions mention using the Smart Screen in conjunction with an Arduino or other similar external system. For this particular review I want to demonstrate how the Smart Screen can be used specifically in conjunction with Hornby's Railmaster (RM) train control software.
RM can, in addition to manual control of locos and accessories by on-screen selections, also be used for automatic operations using nominated programs – i.e. macros recording all the various keys strokes used operationally, which are saved as a time phased program and replayed later to automate operation of the layout.
These programs can be hand written or recorded in real time. In RM we first need to give our Smart Screen an address just like a loco or accessory, and then we can make use of RM's programs to link our screen messages to other programmed events like operation of locos or points and signals.
We can also just associate our smart screen to a loco or accessory or sensor/switch and operate RM manually.
The screen has been tested by the reviewer and responds correctly in all modes, whether your RM (primary or secondary) DCC controller is a Hornby Elite and/or an eLink.
Loco Mode (Instructions - Project 1).
For this video clip I simply programmed and linked screens A and B to react to a loco address and then show a short message that changes with loco direction. You may program any message of your choosing for either direction.
Train-Tech Smart Screen Loco Mode Video (Click to play):
For Accessory Mode (Instructions - Project 3)
Next I reprogrammed and linked all ten screens (paired A-B through I-J) to matching accessory addresses to illustrate how the messages change as each accessory is selected by RM to say Point - left or right or Signal – clear or stop. This short video clip only shows the screen changing as Point 2 is selected left (Scr3) and right (Scr4).
Train-Tech Smart Screen Accessory Mode Video (Click to play):
Other Modes – Projects 2, 4 and 5
The screen was tried in the other modes described in the instructions projects section and found to work exactly as expected.
Key Press Programming (Instructions Page 2)
Actual programming of the screen messages requires pre-planning, some patience and careful presses of the F-keys (F0 to F9) on your DCC controller to correctly input the messages you have detailed on the planning sheet downloaded earlier. How to do this is well covered in the instruction booklet and I will not repeat it here.
Tip: If you aim your webcam at the Smart Screen, you can zoom in large on your PC and also use an expanded throttle in RM to carry out your F-key presses from your PC or touch screen, saving strain on your eyes and wear and tear of your DCC controller buttons.
Summary.
Every modern layout should have one or more of these remarkable UK designed and manufactured display screens. As seen on the brief demonstration video clips they can show any message you like for use on board rolling stock, mounted on station platforms and triggered by various methods, or used outside the railway in model sports stadiums, as shop front and public display screens, or as traffic information boards on motorways and main roads, or as destination boards on buses and trams, etc. The options for use are limited only by your imagination and the size and era of your layout.
Seeing this product on paper does not do it the justice it deserves. You really need to see it in operation to appreciate the capability and clarity of the display, which is why I have included the video clips; unfortunately the mid-level webcam at the zoom level I used has washed out some of the vibrant display colour.
The instructions provided are comprehensive and should be thoroughly read and fully understood in order to make programming of the Smart Screen as easy as possible. You will refer to them often so keep them handy. If you lose them then a download is available from the Train-Tech website.
A minor drawback is the slightly drawn out message input method, which of necessity has been developed as a very reliable catch all method for the wide variety of Smart Screen users and their various input devices. Normally once you have your Smart Screen fully programmed you won't be changing it very often, however it is very quick and easy to amend a message if required.
If you also have Hornby's Railmaster software then Smart Screen can easily be integrated into your layout operations.
My verdict – Train-Tech's Smart Screen is a fantastic addition to your layout and highly recommended.
R Honnor
Train-Tech-Smart-Screen//10July2019/v1.0
Appendix A
Using a Visual Basic (VB) program to input Smart Screen Messages
Repeated F-key presses to enter long messages is time consuming. Ray Dawson, a good friend of mine who also has a Smart Screen, has developed a VB program to provide a user friendly front end interface (shown below) that makes sending messages direct to our Smart Screen quicker and easier.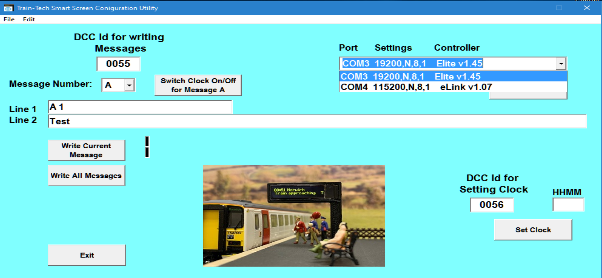 VB Message Writing Interface
We simply pick our Hornby controller with its allocated Com port from the drop down list, and accept the default addresses - screen (0055) and clock (0056). Type in the text we want for Lines 1 and 2 of each message and press the Write Message (Current or All) button. You can also select if the clock is to show or not. This generates a timed list of F-key press instructions, and sends them to the Smart Screen via our chosen DCC controller. As the message populates the black boxes on screen it will write to the Smart Screen.
We can also configure the Smart Screen controls using the Controls Menu as seen here…
Loco, or Accessory, or Cycle time and Settings.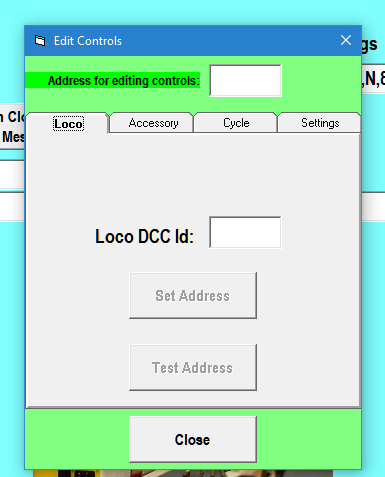 This video clip shows the old VB interface writing a single screen message (Screen 1 Message A) in real time, with 100% accuracy.
At present the message writing interface has been tested and guaranteed to work with the Hornby Elite and eLink DCC controllers.
Train-Tech Smart Screen Message Writing Interface Video (Click to play):
Ray intends to continue to develop the application. At present it only works with Win 10 and Hornby Elite and eLink controllers. This review will be updated eventually to match any progress.
For now you can download the application from here…
https://1drv.ms/u/s!AhG7bX4H0NOt_VTPajMM54kI0dUt?e=SfCkf2